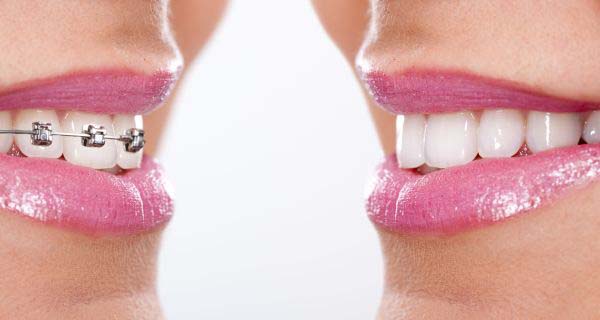 Many adults are opting to straighten their teeth these days with adult braces. It is common for people to think of children and teenagers when they hear the word "braces," but that is not always the case.
Orthodontic treatment for adults
Teeth straightening options
Today there are multiple options for straightening teeth. One common type of braces that many adults go for are clear braces. These devices are very similar to traditional metal braces, but instead of metal wires and brackets, tooth-colored ceramic brackets and transparent wires are used.
As far as traditional metal braces are concerned, the designs have improved a lot over the years, making them less noticeable. Modern metal braces are smaller, and they can also be customized with colors and logos to suit anyone's style.
Non-invasive orthodontics for adults
Many adults also choose clear aligners to straighten their teeth because of how discreet they are. Treatment periods with clear braces vary depending on the severity of the patient's alignment issues. Minor alignment issues can be addressed in six months to a year, while more severe issues might take up to two years to fix. Clear aligners can also be used for limited orthodontics.
Limited orthodontics for adults
This refers to orthodontic treatments that are targeted at a specific area of the patient's mouth. For example, a patient might only need to improve the alignment of their front teeth or their molars. Limited orthodontics is also used to fix other issues like gaps between teeth and crowded teeth. By targeting the specific area of the patient's mouth that is out of order, treatment periods are often shortened.
Life after orthodontic treatment
Orthodontic treatments typically do not end when the patient's teeth have been pushed to the proper position. Teeth are constantly moving and shifting as a person grows, so dentists normally fit their patients with retainers when their treatment is complete. Retainers are devices that keep a person's teeth properly aligned. Sometimes a combination of a permanent retainer (a wire that is fixed to the back of the teeth) and a removable retainer are necessary.
The length of time each patient has to wear a retainer varies depending on the severity of the person's issues. Some patients have to wear it all day long, while others only have to wear it when they go to sleep. Patients are typically advised to wear retainers for at least a year after getting orthodontic treatments. It is important to wear retainers as directed to ensure teeth stay in place.
Orthodontic relapse
Adult braces are not just for adults who have never had orthodontic treatment. One thing that can occur if retainers are not worn is orthodontic relapse. This is when the teeth shift out of alignment after previously receiving orthodontic treatment, which causes the need for orthodontic treatment again.
Are you considering adult braces?
Thanks to modern orthodontics, you can now get the properly aligned teeth you have always wanted, no matter what age you are. Contact our Killeen office to learn more about adult braces and other teeth straightening options.
Request an appointment here: https://www.texasstarsmiles.com or call Texas Star Smiles & FastBraces at (254) 237-1342 for an appointment in our Killeen office.
Check out what others are saying about our dental services on Yelp: Types of Braces.
---
Related Posts
May 10, 2019
Clear aligners offer a great alternative to traditional braces. Generations of people grew up wearing traditional metal braces to straighten their teeth. Traditional braces, though efficient and effective, make some people feel self-conscious. They also …