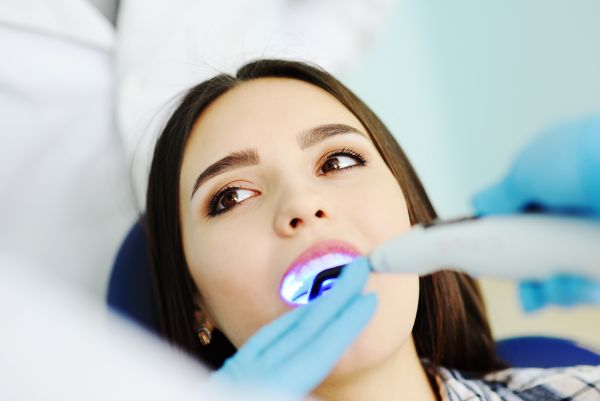 Whether for an upcoming event or to improve the everyday appearance of a smile, many people see a dentist for occasional teeth whitening. The process is safe, effective and more affordable than ever.
Before you start this simple procedure, it is best to know how professional teeth whitening work.
Why you should see a dentist for teeth whitening
There are many over the counter teeth whitening products available these days. Many patients turn to these at home treatments before consulting with a dentist.
In some cases, these products may pose serious problems for consumers. Using a teeth whitening product from the supermarket may result in an inferior whitening, uneven color and serious discomfort. While home kits seem cost-effective, they may waste your time and money once you see the results.
Dental office teeth whitening offers professional results, even color and no discomfort. You may be surprised to learn how affordable it is to see a dentist for whitening.
The teeth whitening process
If you are on the fence about professional whitening, arm yourself with knowledge. Dentists typically follow this simple process for patients.
The initial consultation
First, a dentist will meet with you to determine whether teeth whitening is appropriate. This has nothing to do with your discoloration. Those with crowns or large fillings on the front teeth may see uneven results since the whitening agent only bleaches natural teeth. Your dentist has your best interest in mind during this visit.
The whitening procedure
Next, the dentist will start the whitening procedure at your next visit. A comfortable lip retractor will sit in the mouth to keep lips out of the way. The dentist will cover the gums with a gel that solidifies with a high-power light. This forms a barrier to protect the gums from the bleach.
The dentist then applies a gel rich in hydrogen peroxide that permeates teeth and breaks apart stain compounds. A light may also be used to speed up this process.
Because this process is quite effective, patients often achieve dramatic results. Your teeth may be four to six shades brighter by the end of the visit.
Is teeth whitening painful?
You will be happy to know that whitening is relatively pleasant. While tooth or gum sensitivity may follow, it is normally minor and goes away within a day or two.
How long does a typical whitening last?
Your newly whitened teeth can last for quite some time! While each patient will be different, whitening can last for two to three years. This makes professional treatment cost-effective when you consider how long your new smile with last.
That said, if you have habits that stain teeth, then your teeth may return to their old color with time. Try to avoid habits such as smoking and drinking coffee to retain a beautiful smile.
Do you want a whiter smile?
Seeing your dentist for teeth whitening offers superior results to over the counter options. If you are ready for a brighter smile, then call our office to learn more about our process.
Are you considering teeth whitening in the Killeen area? Get more information at https://www.texasstarsmiles.com.
Check out what others are saying about our dental services on Yelp: Teeth Whitening.
---
Related Posts
May 10, 2019
Clear aligners offer a great alternative to traditional braces. Generations of people grew up wearing traditional metal braces to straighten their teeth. Traditional braces, though efficient and effective, make some people feel self-conscious. They also …